June 29, 2019
Welcome to the Skyhawk Screech – Simonds Elementary Newsletter!

Important Upcoming Dates/Events:
Tuesday Sept 3: First Day Back  1 HR ONLY
Wednesday Sept 4: Full regular day.
Our K-12 "Caught Being Kind" Winners. We are striving to be the kindest school in the District!  In order to provide a bit of an incentive, each student caught being kind will have his/her name entered into a weekly prize draw. Congratulations to Emirah P., Aimee K., Jasmine C., James H., Lucas J.,Kenley A., Grayson R., & EVERYONE on the last day of school !!  Keep on being kind!
Staff Appreciation Lunch

The entire Simonds and U-Connect Staff would like to send a HUGE THANK YOU out to our awesome parents!!!  Thanks so much to the Simonds and U-Connect PACs for the Staff Appreciation Lunch.  It was so delicious.   We are lucky to be a part of this amazing school community.  We have the best parents and we are truly appreciative of your support.
Calling all Preschool Parents
Buttons n Bows (onsite childcare and preschool) will be offering preschool classes 5 days a week – Monday – Friday starting in September 2019. Part-time is also available. For more information or to register please contact Leah @ 604-209-4340.
DIV 2
Students created mixed media art cats and dogs
DIV 4
Students learned about recyclable material. We were taught about the different kinds of materials such as plants, milk paint and cork and how they are more sustainable building materials. We got to paint wooden letters with milk paint.
Grad Walk
Once again our students lined the halls and cheered for the LSS Grads as they walked through our hallways!
Sports Day
We had great weather for Sports Day this year!  We started the day off with our Wheels Parade – and then spent the rest of the day with teams going through a circuit of events.  Students and staff had a terrific day in the sun!
Kindergarten Graduation
Grade 5 Dinner/Dance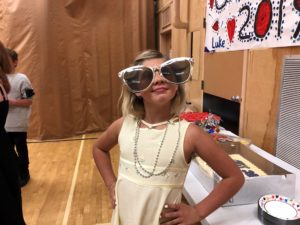 Year End Assembly
What a special assembly!  We were able to honour our Grade 5s as they leave Simonds for middle school. The kindergarten students presented the grade 5s with a rose. Ms. Silva and Ms. Thomsen presented each grad with a Leaving Certificate.  Brendan, Kayla and Striker each spoke – passing on their words of wisdom to the students for next year.  We are going to miss all our Grade 5s.  We wish them well in Grade 6. This assembly also gives us the opportunity to say thank you and  good bye to some teachers and SEAs who are moving on to other schools or adventures next year.  Ms. Thomsen was surprised by a fantastic video presentation and a beautiful whole school song – wishing her well as she moves to the Vancouver School District next year.
Summer is here!
We hope you all enjoy a fantastic summer!  We look forward to seeing you back on Tuesday, September 3!