Here is a list of the Picture Books of the Year.  Click on a title for a description & click the pictures for the book trailer. 
Malala's Magic Pencil by Malala Yousafzai
We Don't Eat Our Classmates by Ryan T Higgins
On a Magical Do Nothing Day by Beatrice Alemagna
Harriet Gets Carried Away by Jessie Sima
That's Not Hockey! by Andree Poulin
A Couch for Llama by Leah Gilbert
The Boy and the Whale by Mordicai Gerstein
Not Quite Narwhal by Jessie Sima
The Wolf, the Duck and the Mouse by Mac Barnett
Carson Crosses Canada by Linda Bailey
---
Malala's Magic Pencil
Yousafzai, the youngest winner of the Nobel Peace Prize, grew up in Pakistan dreaming of possessing a magic pencil like the one on her favourite TV show. At first, she believes that such a pencil could solve any problem—from keeping her brothers out of her room to erasing war, poverty, hunger, and gender disparity. But as Malala grows, so does her sense of purpose and agency; she realizes that change comes not from magic, but from the force of her own words and ideas.
---
We Don't Eat Our Classmates
Penelope is nervous about the first day of school. Penelope is also a T. rex. Reassurances from mom and dad aside, she can't help but wonder if she'll make any friends. And when the day in question arrives, Penelope is completely shocked to discover that all her classmates are human children. So she eats them. She spits them right out when her teacher admonishes her, but the damage is done. Her classmates now fear her, and rightly so. Stricken and lonely, Penelope turns to the class goldfish for comfort and friendship. Little does she suspect that Walter the goldfish is about to teach her a good lesson in empathy.
---
On a Magical Do Nothing Day 
by Beatrice Alemagna
Anyone keen to pass on a love of the great outdoors will welcome the latest picture book from Italian-French talent Beatrice Alemagna, about a child lured away from technology to find fun in a forest. Using a beautiful earthy palette and intricate lines, loops and curls, the author/illustrator evokes a woodland world so full of textures and sights you can almost feel the shafts of sunlight on your back.
---
Harriet Gets Carried Away
by Jessie Sima
Harriet loves costumes. She wears them to the dentist, to the supermarket, and most importantly, to her super-special dress-up birthday party. Her dads have decorated everything for the party and Harriet has her most favourite costume all picked out for the big day. There's just one thing missing—party hats! But when Harriet dons her special penguin errand-running costume and sets out to find the perfect ones, she finds something else instead—real penguins! Harriet gets carried away with the flock. She may look like a penguin, but she's not so sure she belongs in the arctic. Can Harriet manage her way back to her dads (and the party hats!) in time for her special day?
---
That's Not Hockey!
by Andree Poulin
That's Not Hockey is actually a very brief biography of Jacques Plante, who won the Stanley Cup as goalie for the Montreal Canadiens and who, seven times, was recognized with the Vezina Trophy that is awarded annually to the National Hockey League's goaltender "adjudged to be the best at this position". As a revolutionary goaltender, Jacque Plante led the Montreal Canadiens to victory after victory—and had multiple face injuries to show for it. In 1959, he changed the game forever as the first goalie to wear a protective facemask.  Though That's Not Hockey is a biography, its contents offer a subtle message in standing up for yourself and what you believe in.
---
A Couch for Llama
by Leah Gilbert
The Lago family really loves their couch. It's perfect for reading, snuggling, playing, and jumping. But all good things must come to an end, and, one day, the family realizes the time has come to replace it. As they drive home with their brand-new bright-red couch, though, it gets knocked off the top of their car into a field . . . where a llama tries to make sense of this new thing. At first confused It doesn't talk! It doesn't taste good! It doesn't move! the llama soon realizes how comfy the couch is and settles right in. Can the family get its couch back and keep llama happy, too?
---
The Boy and the Whale
by Mordicai Gerstein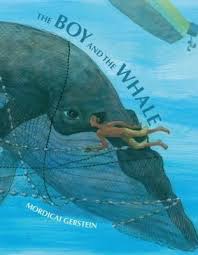 A boy and his father discover a whale tangled in their only fishing net. Is the whale dead? While the man worries about losing their net, the boy worries about the whale. He remembers the fear he felt when, caught in a net himself in childhood, he almost drowned before being rescued by his father. When the whale blinks an enormous eye, the boy knows that he has to try to save the creature, no matter how dangerous doing so may be.
---
Not Quite Narwhal
by Jessie Sima
Growing up in the ocean, Kelp has always assumed that he was a narwhal like the rest of his family. Sure, he's always been a little bit different—his tusk isn't as long, he's not as good of a swimmer, and he really doesn't enjoy the cuisine. Then one night, an extra strong current sweeps Kelp to the surface, where he spots a mysterious creature that looks just like him! Kelp discovers that he and the creature are actually unicorns. The revelation leaves him torn: is he a land narwhal or a sea unicorn? But perhaps, if Kelp is clever, he may find a way to have the best of both worlds.
---
The Wolf, the Duck and the Mouse
by Mac Barnett
When a woeful mouse is swallowed up by a wolf, he quickly learns he is not alone: a duck has already set up digs and, boy, has that duck got it figured out! Turns out it's pretty nice inside the belly of the beast – there's delicious food, elegant table settings and, best of all, dancing. And there's something more: no more fear of being eaten by a wolf! Life's not so bad, considering the alternatives. That is, until a hunter shows up… With a nod to traditional fables and a wink to the reader, the award-winning Mac Barnett and Jon Klassen of Sam and Dave Dig a Hole, Extra Yarn and Triangle offer a tale of cooperation and creative cuisine that is sure to go down easy.
---
Carson Crosses Canada
by Linda Bailey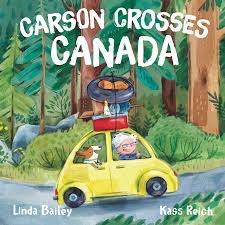 Feisty Annie Magruder and her dog, Carson, live in British Columbia, Canada, and they're setting out to visit her sister, Elsie, in Newfoundland. In their little rattlebang car, packed with Carson's favourite toy, Squeaky Chicken, and plenty of baloney sandwiches, Annie and Carson hit the road! They travel province by province, taking in each unique landscape and experiencing something special to that particular part of this vast, grand country. For example, they marvel at the beauty of the big, open sky — and grasshoppers! — in Saskatchewan and discover the gorgeous red earth and delicious lobster rolls in PEI, before finally being greeted by Elsie — and a surprise for Carson!
~~~~~~~~~~~~~~~~~~~~~~~~~~~~~~~~~~~~~~~~~~~~~~~~~~~~~~~
Summaries are courtesy of Goodreads.com*
*Warning: some of the ads on the Goodread.com websites are not appropriate for young children, which is why there are no direct links to that site on this page.